Finished reading this story? Please return to our News Homepage to view our latest stories.
Coventry & Warwickshire's Fashion & Textile Creative Network
Over recent weeks we have had numerous meetings with local companies and individuals who are out there creating fantastic products or offering unique services but they have been telling us how isolated they feel, as many of them work alone or in small studios. Having thought about this for a while it seemed like a good time for us at Creative hubb to try to create a Coventry & Warwickshire networking group for small businesses, individuals and freelancers working in creative fields; specifically fashion, textiles and creative arts, including any associated areas such as photography, graphic design, printing, costume design, textile artists etc. The group is specifically aimed at professionals within the CV postcode area, the intention is to bring people together to potentially create business opportunities and collaborations but also give people a sense of community and belonging.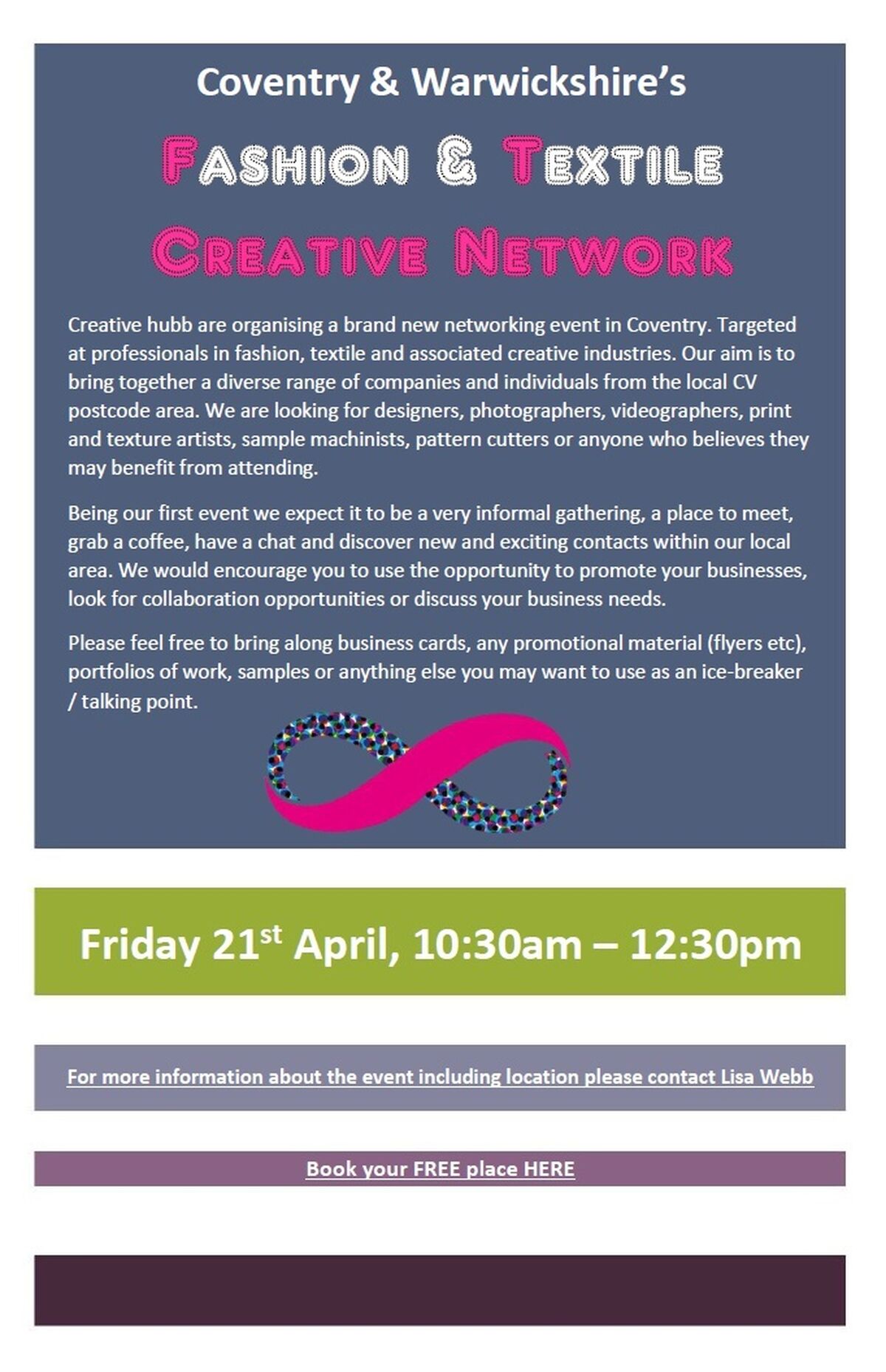 The idea is to attract professionals rather than the hobbyist, not because we want to exclude anyone but because we feel there is a need for the professionals to have a platform and some kind of network that they can rely on. We think there are so many reasons why it could work; broadening opportunities, being able to pool ideas and develop skills or learn about new methods or media but it could also become a sort of 'Trust a Trader' type network, where we have people involved in the group who are for example, fashion photographers, screen printers, machine embroiderers, sample machinists, brand developers, graphic designers etc, the network could become somewhere you can rely on as your first port of call when looking for creative artists or services within the local area. By connecting local people and businesses we can support the idea of creating a micro industry where we are working from concept to delivery all within the Coventry and Warwickshire border, thus reducing our carbon footprints and heading towards a more sustainable and environmentally conscious future.
To book your FREE place at the event please RSVP to: Lisa.webb@creativehubb.co.uk